And I'm scared.
BLUE is a 9 year old registered paint gelding with aexceptional mind great attitude quite he does it all he has many high points &reserve high points I'm away at college he has been retired for 2 years he has a lot of life left he does have some arthritis in his hocks but is very manageable he will ONLY be sold to a good home call xxx-xxx-xxxx or xxx-xxx-xxxx
She's talking about this horse like he's freakin thirty!
He still has a lot of life in him? I would hope so! He's nine! That's not even half of a normal horse's lifespan! Why does he have arthritis at the ripe old age of nine? I get the feeling that she probably broke and showed him as a two year old. I would bet money on it. Those kinds of equestrians think it's normal for a horse to retire at nine. *facepalm*
*sigh* A nine year old horse should normally be perfectly sound, assuming he doesn't have any hereditary problems or was mistreated. And yes, I consider backing two years old to be mistreatment. It's never a good idea and there's nothing in it for the horse.
I don't know this horse's story, I'm just going on a hunch. It just bothers me the way she's talking about him.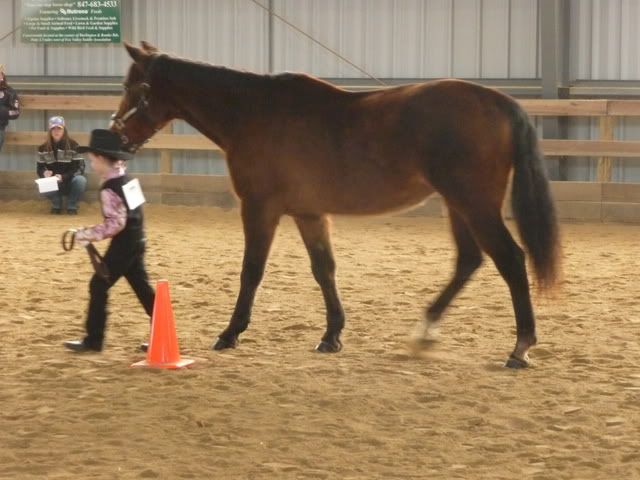 Missy is my trainer's horse. She's 32 years young and still sound, healthy, and ride-able. She was a Western Pleasure horse in her day, and the photo was taken during a showmanship class last spring.
It is possible for a horse to be show-worthy past the age of ten. There's nothing wrong with waiting three or four years before backing your youngster. It's just one thing you can do to ensure that the horse will be a sound riding partner for the next 20+ years.
Judgment is seventeen years old in this photo. He put the eight year olds to shame! If you watched the 2008 Sporthorse Cup, you'll know that he and Beezie kicked butt! I believe he retired just recently. That's a damn good career. A lot of people should learn something from the two of them.
Besides the fact that riding babies is wrong, there are so many other things you should be doing with them in the mean time. Ground manners, loading, ponying on trails, long reining, standing for the farrier, desensitizing to things like cars, kids, water, etc. Teaching things like yielding the fore and hindquarters will make riding them a lot easier.